AFC East Divisional Preview
The AFC East is a division in flux.
New England faces serious turnover on the offensive side of the ball, New York is in the middle of a total rebuild, Buffalo is under new leadership, and Miami has made aggressive moves to attempt to seize control of the division.
But how will it play out on the field?
Team Previews (in projected order of finish)
1. New England Patriots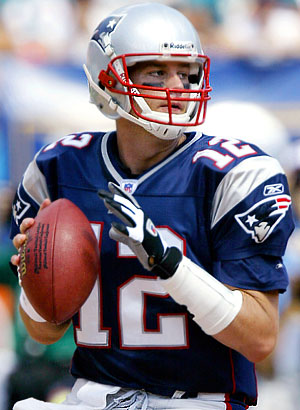 Key Additions: Signed WR Danny Amendola, SS Adrian Wilson, DT Tommy Kelly, RB Leon Washington, WR Michael Jenkins; drafted OLB Jamie Collins, WR Aaron Dobson, CB Logan Ryan
Key Losses: WR Wes Welker, TE Aaron Hernandez, WR Brandon Lloyd, S Patrick Chung, RB Danny Woodhead, DT Kyle Love
This is not the same team that led the NFL in total offense last season.
However, there is still enough firepower to easily win in a weak division.  Tom Brady remains one of the top 5 quarterbacks in the league, and while he may not accumulate as many passing yards this season with his best weapons missing, he will still orchestrate New England's up-tempo attack with precision.
The overall success of the Patriots will be predicated upon how they replace the players that were such a focal point to their passing game.  In six seasons in New England, Wes Welker averaged 112 catches, 1243 yards, and 6 touchdowns.  While not amazingly explosive, that is tremendously consistent production working out of the slot.
Danny Amendola has shown flashes of ability when he has been healthy, but his yards per catch average is almost 3 yards worse than Welker's from his days in Miami.  If Amendola can match even three quarters of Welker's production, it will lessen the burden other players face in the passing game.
Uncertainty at tight end is the other major question looming over Foxboro.  Rob Gronkowski and Aaron Hernandez combined for 106 catches, 1273 yards, and 16 touchdowns last season while only playing 11 and 10 games respectively.
Gronkowksi is the most dangerous weapon on this offense, but it remains to be seen when he will actually return to the field.  His effectiveness once he eventually returns will be a major factor in determining how far the Patriots advance in the playoffs.
While the passing offense may slow some, New England's running game should continue to improve.  Stevan Ridley can build on his 1263 yard sophomore campaign, and Shane Vereen will be featured more, especially in the passing game.  New England also has one of the best offensive lines in the NFL, which instantly makes the talent around it better.
Defensively, New England still has talent, though it is a far cry from their glory days back in the early 2000's.  Vince Wilfork still controls the line of scrimmage at a high level and frees up the players around him to make plays.
Jerod Mayo is a tackling machine leading the linebacker corps and the secondary is much improved.  If Devin Mccourty and Aqib Talib can realize their potential, this unit can create a lot of turnovers.  Adding 5 time Pro Bowler Adrian Wilson from the Arizona Cardinals only helps.
The Patriots are trending downward with their problems on offense, but they still possess great talent.  This does not have the feel of a Super Bowl team, but in this division they should coast into the playoffs, despite a difficult schedule outside of the division.
2. Miami Dolphins
Key Additions: Signed WR Mike Wallace, LB Dannell Ellerbe, CB Brent Grimes, OT Tyson Clabo, TE Dustin Keller, OLB Phillip Wheeler, WR Brandon Gibson; drafted DE Dion Jordan
Key Losses: OT Jake Long, OLB Karlos Dansby, RB Reggie Bush, CB Sean Smith, WR Davone Bess, TE Anthony Fasano
Miami had one of the most active offseasons of any team in the league.  Sensing a weakness in the division and the conference, the Dolphins thought some big moves could bring a playoff run.  While they made these moves, they also paid a price by letting some of their biggest free agents leave south Florida.
Mike Wallace will be called upon to play a large role in the offense.  However, Wallace is vastly overpaid for his actual skill level.
He averages 17.2 yards per catch for his career, but his averages are trending downward.  He has gone from 21.0 yards per catch in 2010, to 16.6 in 2011, to 13.1 last season.  In addition, his total yardage has declined every season since 2010, even as his role supposedly expanded.
Ryan Tannehill was third in the NFL last season in completion percentage on balls thrown over 21 yards and Wallace still has great speed, but the loss of explosiveness and effectiveness is concerning.
Speaking of Tannehill, the Dolphins are going to need to see progression from him if they have any chance to make the playoffs.  His completion percentage wasn't terrible, but he threw more interceptions than touchdowns and did not have particularly good yardage totals either.  While some of this is the product of his offense, losing Jake Long's protection (even if his effectiveness declined) and Reggie Bush's hands out of the backfield also hurts Tannehill's development.
Lamar Miller is going to need to step up to help this offense achieve its potential.  He showed good skill in a limited role in his rookie year, but he has set a lofty goal of 1500 rushing yards this season.  He can probably best Bush's rushing numbers, but Miller's skill as a receiver remains to be seen.
Rookie Dion Jordan will be expected to help bolster a pass rush that has primarily relied upon Cameron Wake.   Dannell Ellerbe was Miami's second biggest addition, but he needs to prove that he truly can compete at the highest level.  He did a good job filling in for Ray Lewis in Baltimore last season, but Ellerbe was used very little previously.
Pro Bowler Randy Starks remains an excellent contributor on the defensive line, but he needs help around him.  The Dolphins are still average to below average as a defensive unit.  New corner Brent Grimes need to show he can return to form in coverage to make up for the loss of Sean Smith.  Pass rushing will be essential to forcing turnovers for Miami as the secondary possess limited individual playmaking skill.
Ultimately, it does not look like the Dolphins improved enough to make the playoffs.  They overspent to make a splash and let key players walk.  They are counting on too much from second year players Ryan Tannehill and Lamar Miller to make a big jump in the standings.  The division is bad enough that they will finish second, but the Dolphins still need more talent to contend.
3. Buffalo Bills
Key Additions: Signed QB Kevin Kolb, DT Alan Branch, OLB Manny Lawson; traded for OLB Jerry Hughes; drafted QB EJ Manuel, WR Robert Woods, LB Kiko Alonso, WR Marquise Goodwin
Key Losses: QB Ryan Fitzpatrick, DE Shawne Merriman, OLB Nick Barnett, DE Chris Kelsay, LB Kelvin Sheppard, G Andy Levitre, S George Wilson, WR Donald Jones, QB Tavaris Jackson
New coach Doug Marrone, formerly of Syracuse University, has his work cut out for him.  There are some talented individual pieces, but the team as a whole is not good.  The biggest problem right now for the Bills is the uncertainty at quarterback.
It is still unknown whether Kevin Kolb or first round pick EJ Manuel will play the majority of snaps under center.  At this point, neither is a great option.  Manuel has more potential, but the staff may opt to let him sit and learn.
Turning Manuel loose is probably the better option for Buffalo.  He is their future and it will give him time to build a rapport with the receiving corps.  His added ability with his feet will also give the offense a different dimension Kolb cannot offer.
CJ Spiller will be asked to bear the load of the offense and the team's success will mirror his success.  Quarterback play limits Buffalo's ceiling, but Spiller alone is enough to keep them out of the division cellar.  Not only does he provide excellent running ability, he has good skill as a receiver.
Rookies Robert Woods and Marquise Goodwin will help support Steve Johnson in the receiving corps.  Johnson has posted three consecutive 1000 yard season, but he needs players around him.  Woods in particular should help draw attention away from Johnson, though Goodwin has blazing speed that saw him lead the combine in 40 yard dash time.
On defense, the Bills are looking to improve despite losing four players from the front seven.  Last year's record signing Mario Williams posted 10.5 sacks, but it still was not enough to justify the 6 year, 50 million dollar guaranteed contract.  He has the talent to terrorize opposing offenses, but Buffalo still only finished 23rd in sacks last season.
In the secondary, Jairus Byrd is a Pro Bowler at safety, but Leodis McKelvin and Stephon Gilmore need to step up at corner.  Former number three overall pick Marcell Dareus does a solid job on the defensive line, but the linebackers are an underwhelming group.
Buffalo is in rebuilding mode.  There are promising individual pieces for the future on the roster, but it is not the Bills time yet.  CJ Spiller is good enough to win games for Buffalo, though quarterback play will ultimately determine their fate.
4. New York Jets
Key Additions: Signed S Dawan Landry, OL Willie Colon, G Stephen Peterman, TE Kellen Winslow, OLB Antwan Barnes, RB Mike Goodson; traded for RB Chris Ivory; drafted CB Dee Milliner, DT Sheldon Richardson, QB Geno Smith, G Brian Winters
Key Losses: CB Darrelle Revis, OLB Bart Scott, G Brandon Moore, RB Shonn Greene, S LaRon Landry, TE Dustin Keller, OT Jason Smith, G Matt Slauson, DT Sione Pouha, S Yeremiah Bell, QB Tim Tebow
How the Jets remained in the hunt for a playoff spot until the very end last season remains a mystery.  They were a mess last season, and it is only getting worse.  The team is being stripped apart for a total rebuilding effort, despite the continued presence of Coach Rex Ryan.
As with the Bills, the Jets face quarterback issues.  Incumbent Mark Sanchez could not be shipped out of town due to his large contract, but he is no longer the future.  That would be second round pick Geno Smith.
The former West Virginia quarterback put up impressive numbers (4205 passing yards, 42 passing touchdowns, and a 71.2 completion percentage), but lingering questions surrounding his personality made him fall to the second round.  He has talent though and the Jets are best suited finding out what he can do in games.
Trading for running back Chris Ivory was a savvy move by the Jets front office.  His presence (and career 5.1 yards per carry average) should bolster the anemic offense that finished last year 30th in total yards.  The offensive line led by Nick Mangold and D'Brickashaw Ferguson is still a solid unit (especially in run blocking), despite changes at guard, and should help open holes for Ivory.
The line should also be helpful to whoever winds up quarterbacking the Jets.  However, the receiving corps is still abysmal.  Jeremy Kerley flashed potential last year, but he should not be a number one receiver.
While the Jets offense will remain miserable, it is the defense that will determine how poorly New York plays this season.  The Jets finished with the 8th best defense in the league last year, and were 2nd in passing defense even without star corner Darrelle Revis.
Dee Milliner was drafted to replace Revis, but the secondary still got noticeably worse because of losses at safety.  LaRon Landry made the Pro Bowl last season, and while Dawan Landry is a decent replacement the other safety spot is a glaring weakness.  Milliner should team with Antonio Cromartie and Kyle Wilson though to help keep this a respectable unit against the pass.
However, the front seven needs to improve against the run.  The Jets finished 6th in sacks last season but had problems stopping the run.  Rookie Sheldon Richardson should help on the defensive line, but losing Bart Scott hurts the linebackers.  David Harris, Calvin Pace, and Muhammad Wilkerson are all highly capable players on the front seven, but New York needs to see improvement from last year's first round pick Quinton Coples.
The Jets will be one of the worst teams in the NFL this season.  They simply don't have the offense to compete.  Their defense will keep them in games, but it is not enough.  For now, the Big Apple will experience the rebuilding process.
Impact Offensive Player: CJ Spiller, RB – Buffalo Bills
            Spiller will single-handedly carry Buffalo at points throughout the season.  He finally broke past Fred Jackson last year and the results were spectacular.
Spiller accounted for 1703 yards of total offense last season (1244 rushing, 459 receiving) on only 250 touches.  His 6.0 yards per carry averaged tied with Adrian Peterson to lead all running backs.  This is remarkable efficiency and if he can reach even 5 yards a carry this year his production will be spectacular from a heightened workload.
He also creates big plays.  Though he only scored 8 touchdowns last season, Spiller had 12 runs of 20 yards or more.  He has the explosiveness and elusiveness to avoid tacklers, and also averaged 3.58 yards after contact, second only to Peterson.
Combine his ability to run after contact with 66 missed tackles forced (5 behind leader Peterson, but in 138 fewer touches) and he led the league in Pro Football Focus's Elusive Rating.  Considering he is also a reliable receiver who averaged 10.7 yards per catch and had 8 receptions of over 20 yards, Spiller provides tremendous value to Buffalo.
With his 4.28 40 speed, Spiller will be an absolute game changer this year.  Buffalo's hopes rest squarely on his shoulders.
Impact Defensive Player: Cameron Wake, DE – Miami Dolphins
            Wake used to play in the CFL; now he is one of the most feared pass rushers in the NFL.  Wake finished 4th in the NFL, behind only JJ Watt, Aldon Smith, and Von Miller, with 15 sacks last season.  Miami only had 37 sacks last year, which means Cameron Wake accounted for over 40 percent of Miami's sacks.
Wake has 43 sacks in 4 seasons in the NFL.  In his rookie season he amassed 33 pressures in only 130 pass rush attempts  according to Pro Football Focus and the next season he made his first Pro Bowl after a 14 sack season.  Wake's production as a sack artist dropped in 2011, when he only recorded 8.5, though PFF still credited him with 81 total pressures.
Last season was Wake's masterwork though.  He finished tied for fourth in the league in approximate value, behind only Watt, Richard Sherman, and Adrian Peterson.  He made his second Pro Bowl and was named first team All-Pro.
He recorded 23 hits and 46 hurries last season and finished with 86 overall pressures.  His relentless and explosive speed rushing skills make him far and away Miami's best defensive player.
The Dolphins' traded up to draft Dion Jordan to help Wake rush the passer.  But Wake will still be the key if Miami is to make a run after their offseason spending spree.  He is one of the best and yet most underappreciated pass rushers in the league, and his pressure will be needed to force turnovers.